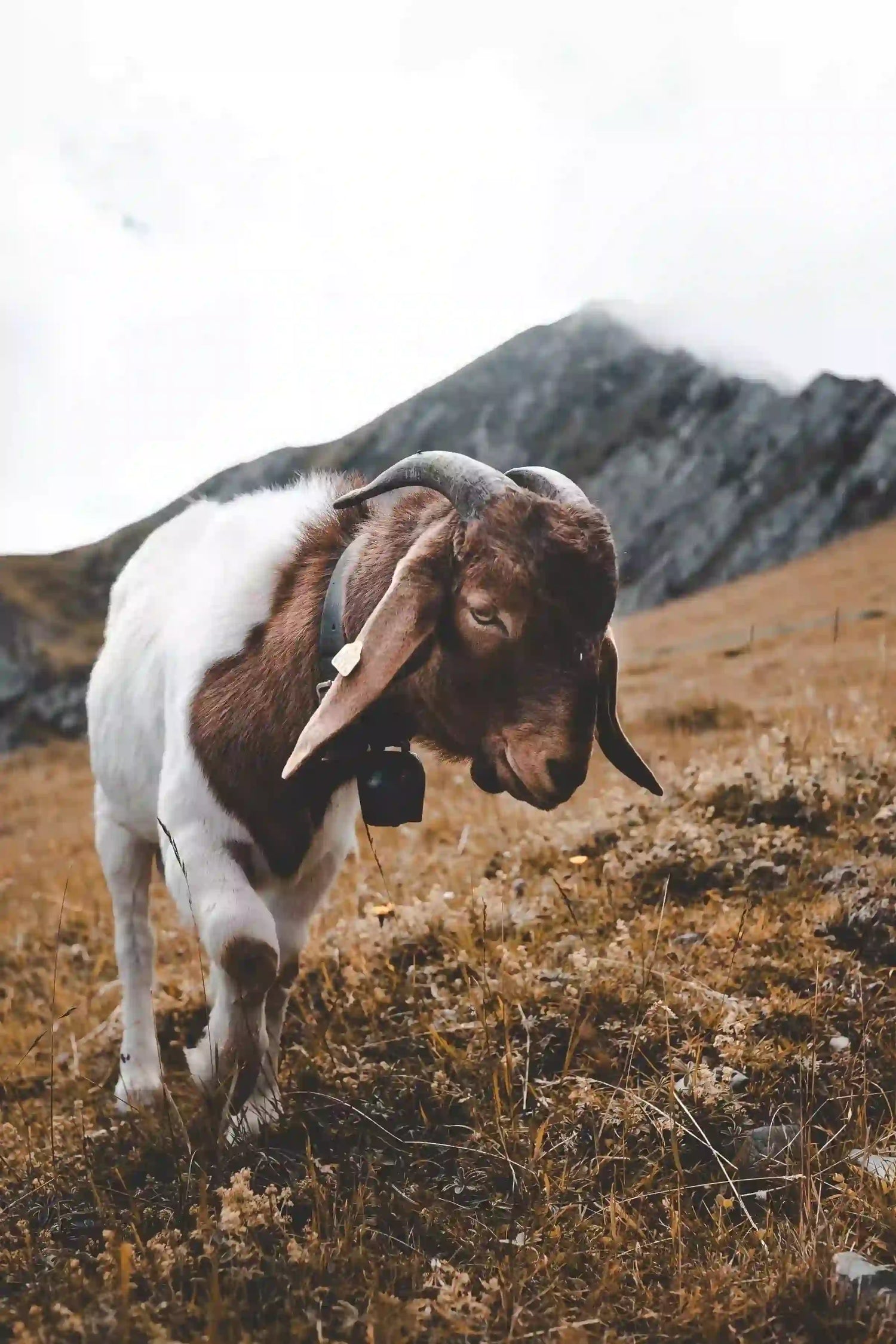 Fresh Grass-fed Free Range Goat Mutton Meat
Delve into the luxury of Free range mutton from our Grass-fed goat. Our goats are fed with only grass and forage to maintain a healthy ecosystem amongst them. They are bred in a soothing, stress-free environment to ensure their health. Our Goat meat is a mile beyond traditional goat meat when it comes to quality and flavour. Buy our goat meat online delivery and get it right off the pasture, all fresh. Want it? Don't look any further!

Shop Now
Mutton Biryani Cut

We know exactly what your biryani needs. Perfect larger-than-medium cuts of marrow-filled bones with chunks of mutton meat clinging to them so they fall off to the touch when cooked just right! Cooking biryani? We've got you.


Boneless Mutton Cubes

Did you know that Mutton 65 is actually a thing? That's exactly what our Boneless Mutton Cubes are for. The most flavoursome Goat leg meat is broken down into boneless, easy-to-handle pieces. Chukka? Yup. Kebabs? Hell yes. Explore to your heart's content through all things boneless!


Mutton Curry Cut

Right from the Roganjosh and Naan in Kashmir to the Chettinad style Mutton Kulambu with the humble Idly, this cut is the one for you. With delicious Shoulder Mutton meat amongst other parts, we literally will 'shoulder' the responsibility for your curries tasting like a Michelin-Star meal. Pun intended!

Our goats bleat organic. They are fed with grass and hay straight off the lands they are grown in. There are no pesticides, herbicides, or any other '-cides' within an inch of our goats. The only fertiliser for our pastures comes from our goats themselves. You know what we mean!


You can enjoy our organic free-range mutton, non-GMO in perfectly vacuum-sealed packages to ensure freshness, and that's not even the best part: you can get everything from the convenience of your own home!


Shop now
Grass – Fed

We don't grass feed our goats. They get access to only fresh grass that hasn't been rained on with harmful fertilisers. We make sure they only eat forages and grass to keep them healthy for you.


Native Breed (Velladu)

Also called the 'Vellaadu', this native breed of goat is well revered amongst the people. The taste this meat brings to your palate is second to none.

AIR CHILLED

To preserve the meat from the harm of microbes and spoilage, we air chill and vacuum pack your orders to ensure maximum freshness. Your well-being is extremely important to us!


ORGANIC

No hormones or antibiotics are used in the process of rearing these goats. Everything stays organic, right from the grass to the fertilisers.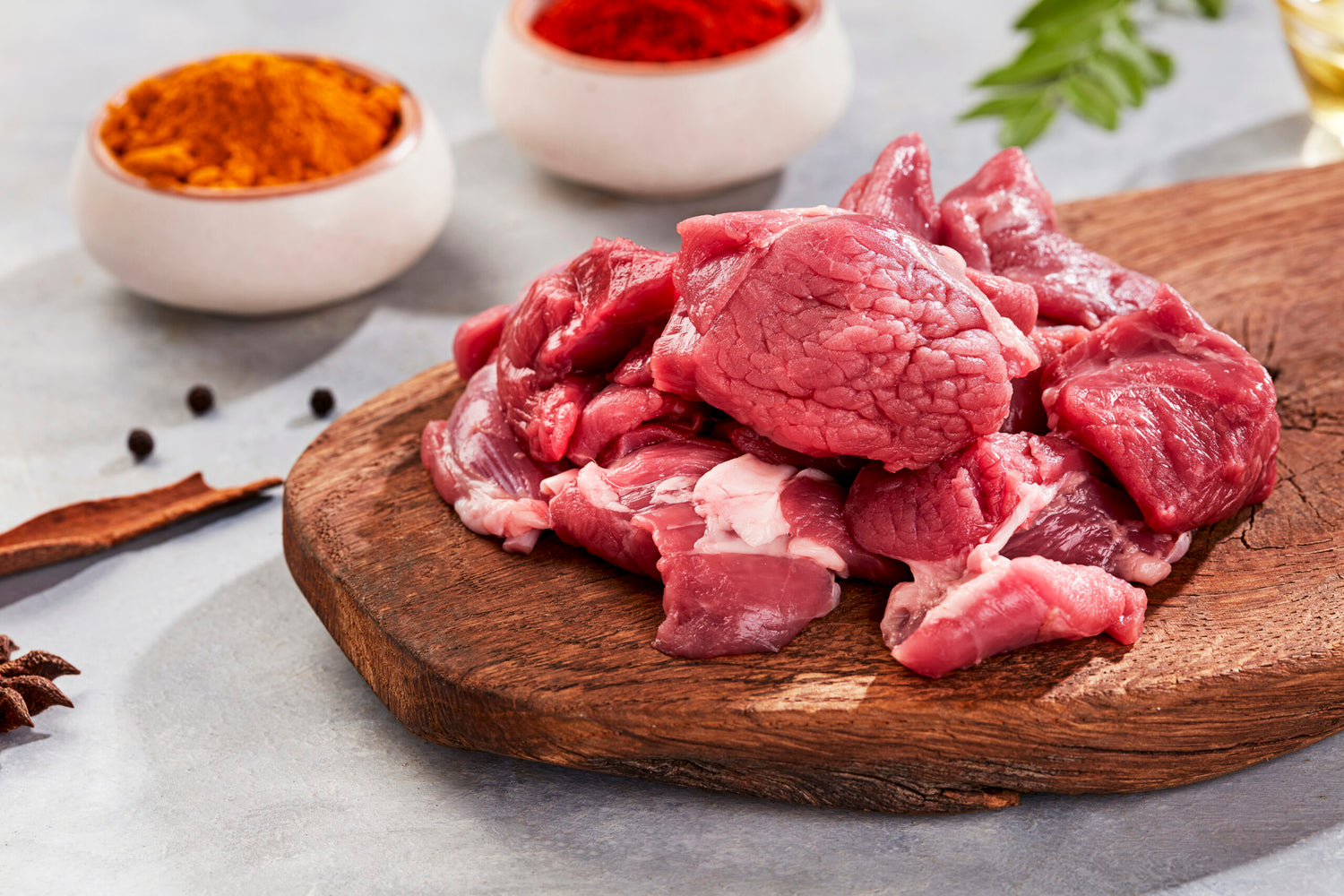 Grass Fed Mutton Order Online
Enjoy the luxury and organic quality in our Grass-fed Free Range Mutton Meat. Fed with Grass and Hay from our own farm, there's a sustainable cycle in their care, within Mother Nature's rules, with no antibiotics, hormones or complex science stuff being pushed into them before they reach your plates. Choose between a variety of cuts depending on your recipe's need, but beware: our mutton meat will make your food dangerously tasty!

Shop Now
FAQ
1. What is a Grass-Fed Goat?

Grass feeding of goats consists of rearing goats with only fresh grass and other forages. Since goats are naturally good at digesting leaves and fibres, this would be the natural and harmless way to go, an alternative to the grain feeding method which is against and detrimental to its nature.

2. Is mutton good for health?

Yes, Mutton is good for health. It is rich in proteins, good fats, and loads of micronutrients. Goat mutton has a comparatively low-fat level when compared to other meats. But as the day-old saying goes, " Even the gods' nectar is poison if taken greedily. "

3. Why is goat meat costly?

Maintaining an organic space and ensuring the right diet for the goats takes a lot of effort on the part of the caretakers, right from rearing to packaging and transport. Unlike other meat like chicken, the cuts from goat meat have to compensate for the effort that the caretakers put into them, thus making mutton one of the costlier meats in India.

4. What nutrients does pasture raised goat meat have?

Pasture raised Free range mutton is rich in proteins and essential micronutrients. Unlike grain fed mutton, it is also lower in calories and fat. It's worth noting that while omega-3 fatty acids in goat mutton provide numerous health benefits, they are just one component of a balanced and nutritious diet.